Bioprinters vs. the Meatrix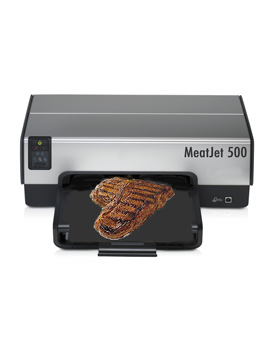 One of the odder manifestations of the fabrication future may well revolutionize the world of medicine -- and quite possibly change how we eat and offer a new way to fight global warming, too.
Bioprinters use ink-jet printer technology to lay down controlled layers of cells. Currently in development in a variety of locations (including the University of Manchester, the University of Utah, and Carnegie-Mellon), bioprinter systems will eventually be able to produce custom-made biological structures, including organs. This month, the Carnegie-Mellon group announced an important step towards that goal: a system able to print out biological patterns using muscle stem cells, which then differentiate into muscle and bone tissues. This kind of technology should one day be able to help treat people with degenerative and tissue-attacking autoimmune diseases, as well as people with damaged or failed organs.
We're still a ways away from being able to click "print" and have a heart pop out onto a holding tray, of course. And even when the technology is perfected, the applications will be limited (albeit life-saving). But the work done on this system may have a far larger benefit for those of us who love the taste and texture of meat, but hate what the livestock industries do to the planet.
It's hard to exaggerate just how destructive ranching -- cattle ranching, in particular -- is to the planet. Pasture and feed-producing land for livestock now account for 30% of the Earth's surface, according to a recent UN report, and is a major driver of deforestation. Moreover, the combined greenhouse gas emissions from cattle manure and the infrastructure around ranching (transport and the like) account for nearly 20% of our overall output -- higher than the transportation sector alone. Meat consumption is a major cause of ischemic heart disease, a top killer in the industrialized world. And the meat industry is, in a word, cruel, both to its workers and to the animals themselves. It's no exaggeration to say that a vegetarian planet would be a far healthier planet in nearly every respect -- environmentally, medically and ethically. Unfortunately, that's just not likely to happen any time soon.
Most of what we think of as "meat" is really just animal muscle tissue. In principle, there's no reason why a system that could print human muscle for medical use couldn't do the same for cattle muscle for food use. In reality, such a system would be highly inefficient -- at least alone.
But what if there was a source for animal muscle cells in great quantities, just waiting to be formed into meat-like structures?
New Harvest is a non-profit trying to develop what they call "cultured meat" -- cloned muscle tissue fed on a mushroom-based nutrient, with all of the taste and texture of "real" meat but without the environmental and ethical problems. Moreover, with the right bit of tweaking, the cultured meat could be healthier than animal meat, simply through the substitution of fats and various proteins. The cultured meat process is simple:
Matheny's team developed ideas for two techniques that have potential for large scale meat production. One is to grow the cells in large flat sheets on thin membranes. The sheets of meat would be grown and stretched, then removed from the membranes and stacked on top of one another to increase thickness.

The other method would be to grow the muscle cells on small three-dimensional beads that stretch with small changes in temperature. The mature cells could then be harvested and turned into a processed meat, like nuggets or hamburgers.
New Harvest is also a ways away from having a commercial product, but the problems they face seem to be more questions of engineering than of basic science.
To grow meat on a large scale, cells from several different kinds of tissue, including muscle and fat, would be needed to give the meat the texture to appeal to the human palate.

"The challenge is getting the texture right," says Matheny. "We have to figure out how to 'exercise' the muscle cells. For the right texture, you have to stretch the tissue, like a live animal would."
One possible solution involves cultured meat cellular structures on bio-scaffolds -- exactly the kind of process ideally suited to an ink-jet bioprinter. The scenarios of food service industry giants battling over the best designs for printed meat almost write themselves.
Of course, you can't talk about fabrication technology without at least thinking about the free/libre/open source possibilities. Desktop meat-jet printers are unlikely at first, but could easily be a hit with the DIY crowd. Will we see fights between the Open Source Steak movement and the Free Food Foundation movement? It takes the idea of swapping recipes to a whole new level.
Then there's the form of the food itself. The first generation of cultured meat products would strive to be as close to familiar as possible: products indistinguishable from beef hamburger patties, chicken breasts, strips of bacon, and the like. But as the public grew more comfortable with the process, there's no reason why more unusual meat types couldn't find their way onto plates of adventurous diners. How about burgers made from the cloned cells of the prehistoric Auroch?. And that's just the start.
Imagine: Soylent Green -- It's People™!